No one can dispute that income and housing are inextricably linked. Other factors apply, of course: down payment, monthly debt expenses and credit score, not to mention the mortgage rate, also have an impact. But first and foremost, the more you earn, the more house you can afford.

And while affordability impacts all us, new research shows that the household income gap is magnified when it comes to gender and race.
The study by FREEandCLEAR, a mortgage website that "empowers" homebuyers to find a home loan that is right for them, used information from the Census Bureau, which collects income data from a number of major household surveys and programs. Each survey collected by the Census Bureau is unique, for example, in its questionnaire length and details, sample size and methodology.
The research found that, based on median incomes, single women can afford only two-thirds as much house as their male counterparts, and that the highest earning ethnic group (Asians) can afford more than twice as much house as the lowest earning group (blacks).
"While the headline income figures are relatively positive, a deeper dive into the data reveals a more complicated story," FREEandCLEAR Co-founder Michael Jension said. "When viewed on a more granular level and applied to housing, the household income report reflects a housing market that is fractured along gender and racial lines and becoming less affordable."
Increasingly less affordable for women and blacks, that is, according to report findings.
The effect of home prices
The government report, Income, Poverty and Health Insurance Coverage in the United States: 2017, was greeted favorably when it was released in mid-September showing a 1.8-percent gain in median household income from 2016 to an all-time high of $61,372.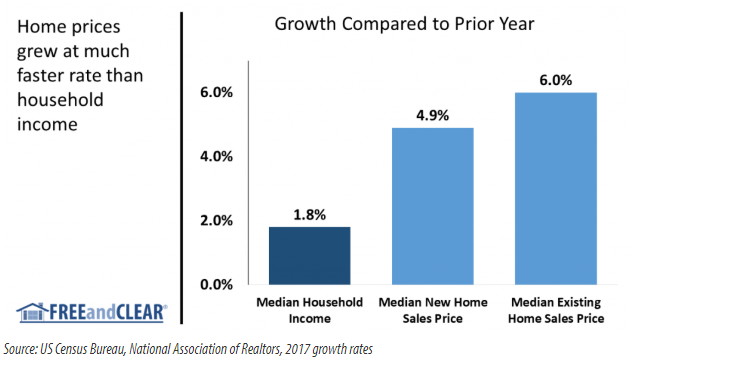 That's certainly good news in and of itself. But median household income is actually decelerating from a 3.1-percent gain in 2016 and a 5.1-percent jump in 2015.
That's not so bad if price increases are slowing as well. While there is some evidence that housing prices are starting to moderate, they rose at a much higher rate than incomes last year, meaning folks could afford less house even though they were making more money.
The government says the median existing homeselling price increased 6 percent, or more than triple the growth rate for household income. And the median new-home price rose 4.9 percent, or more than 2.5 times income growth.
The prevailing gender gap
Furthermore, the closer look by FREEandCLEAR shows that the gender gap is wide and getting wider. Specifically, median male household income in the latest report is $60,843, or 46 percent greater than the $41,703 median for female households.
Assuming people spend an average of 6 percent of their gross earnings on non-housing debt expenses such as credit cards, auto financing and student debt as well as make a 10 percent down payment, the report found that the median female household can afford to purchase a $282,356 house whereas the median male household can afford a $412,127 house.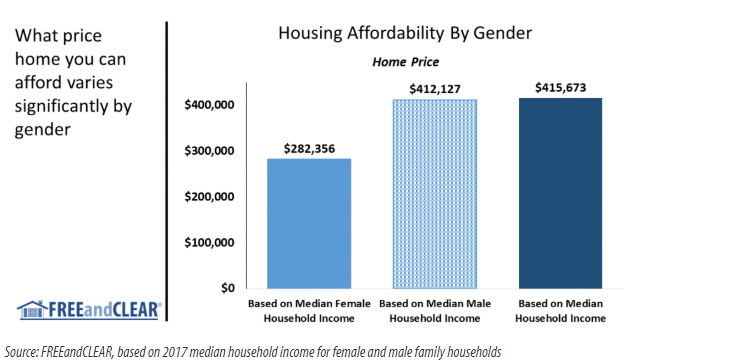 In comparison, based on their median incomes, all households taken together can buy a $415,673 house.
The gap "takes on even more significance," Jensen said, when you consider there are some 15.4 million female family households, a large portion of which are single moms, versus only 6.4 million male family households, according to the Census data.
And the gap is expanding. While median male household income grew 2.6 percent in 2017, median female household income dipped by 0.5 percent. That's a net difference of 3.1 percent, meaning that housing became even less affordable for female households last year.
Income and homeownership potential based on race
There's an even wider disparity among the four racial groups used by Uncle Sam — Asian, black, Hispanic and white — when it comes to affordability.
Asians, with a median household income of $81,331, have significantly greater earnings than blacks ($40,258), Hispanics ($50,486) and whites ($68,145), the latest Census figures show. Using the same assumptions as above, the study says:
Median-income Asian households can afford a $550,858 house.
Median-income white households can afford a $461,541 house.
Median-income Hispanic households can afford a $342,023 house.
Median-income black households can afford a $272,750 house.
"While issues of race and housing are complex, there should be no debate that the income differential has a profound impact on how much home people can afford," the study stated. "Income disparities also affect neighborhood access and housing mobility for lower-earning racial groups."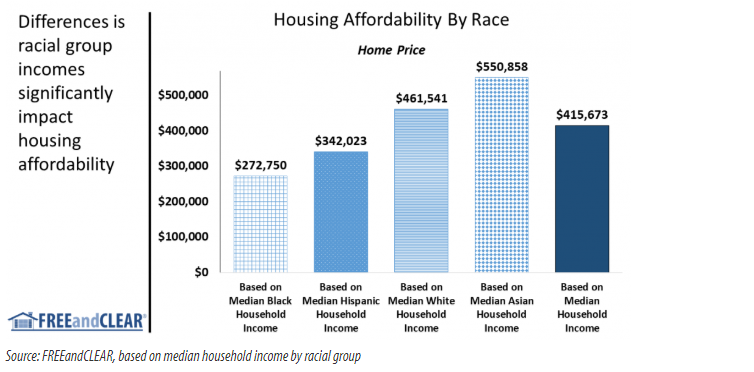 All is not lost, though, for median earnings can go a long way, at least on a national level. While income and prices vary greatly by state, city and neighborhoods, the study points out that the median $415,637 national home price is greater than both the median new and existing home price.
"If you can afford to buy the median priced home with median household income, then housing is relatively affordable," the FREEandCLEAR report says. But if not, there's an "imbalance in the market and home prices are likely not sustainable."
About the study
Although the link between income and housing affordability is clear, there are several caveats regarding the Census Bureau data. Although the report was released recently, the median household income data are for 2017. So while this is the most updated information available, it is somewhat dated. Despite this, housing prices have continued to rise over the course of this year, albeit at a slower pace, while home sales have moderated, suggesting that the crux of the analysis remains applicable.
Additionally, while the primary purpose of the Census Bureau report is to examine trends in household income, it can be used to explore and analyze other important socioeconomic topics. In this case, we used the report and its valuable data to better understand the complex relationship between income, housing affordability, gender and race. We shine a light on these important issues with goal of creating a more fair, affordable and accessible housing market.
This article was pulled directly from Inman News with no curation or modification by Affinity Hills Realty. The views and opinions of authors expressed in this publication do not necessarily state or reflect those of Affinity Hills Realty, its affiliated companies, or their respective management or personnel.
Related Posts
This fall home maintenance checklist will get you and family ready for…

We can market our home ourselves — I mean, how much can…

Bathrooms, move aside — 2019 is the year of the kitchen. (more…)