This fall home maintenance checklist will get you and family ready for the coming season so by the time winter rolls in, everyone will be able to spend a little more time in front of the fireplace with hot cocoa and a little less time wearing a tool belt.
1. Pest control
Keeping your property free of pests, including roaches, mice and bedbugs, is central to good health. Pests can contaminate food, worsen asthma and allergies and cause structural damage.
To keep pests at bay, deprive them of food, water, shelter and means of mobility by sealing cracks and holes, fixing leaks, keeping dishes out of the sink, not leaving food (pet food included) overnight and removing garbage daily.
Hire a professional to derive a pest control plan and service your home regularly, and review the plan annually.
2. Smoke detector
The National Fire Protection Association recommends installing smoke alarms inside each bedroom, outside each sleeping area and on every level of the home.
Maintaining smoke detectors is as important as installing them. Vacuum the alarm to remove dust. Change batteries unless you have the long-life variety. Replace smoke alarms every decade as they have a 30-percent failure rate at that time per the National Fire Protection Association.
Keep a record of installation and maintenance. Additionally, smoke alarms, sprinklers and extinguishers can help protect you and your home.
You should review your homeowner's or renter's insurance policy annually. If you rent, your landlord's insurance only covers the structure of the building, not your personal belongings. Therefore, ensure your valuables are protected from fire damage.
3. Carbon monoxide detector
Carbon monoxide is a threat to your home that you cannot see, smell or taste, thus nicknamed the "Silent Killer."
Although carbon monoxide detectors are designed to be maintenance-free, dust, dirt and other foreign matters can accumulate inside the device's sensing elements and change its sensitivity. Always follow the manufacturer's specific recommended practices for maintenance and testing, and ensure it is equipped with an end-of-life alarm.
Test the carbon monoxide detector at least once a month by pushing the "test" button on the device.
4. Countertops
For kitchen and bathroom granite, marble and natural stone countertops to maintain their luster and resist stains, they require maintenance. Professionals generally advise sealing darker product surfaces once a year since they are very dense and stains are nearly invisible.
Lighter surfaces require more attention and should be sealed every three to six months, depending on frequency of use.
It is important to clean any spills from liquids quickly as possible to avoid having them penetrate the surface.
5. Refrigerator deep cleaning
There appears to be a "National Day" for everything, and November 15 is National Clean Out Your Refrigerator Day.
Start by throwing out the ice and cleaning the ice tray. Many refrigerators have water and air filters that should be changed at least every six months. If those filters are neglected, you'll end up with contaminated drinking water.
When you choose to clean the refrigerator, don't neglect the outside of it — especially the cooling coils. Pull out the refrigerator and vacuum and mop the area.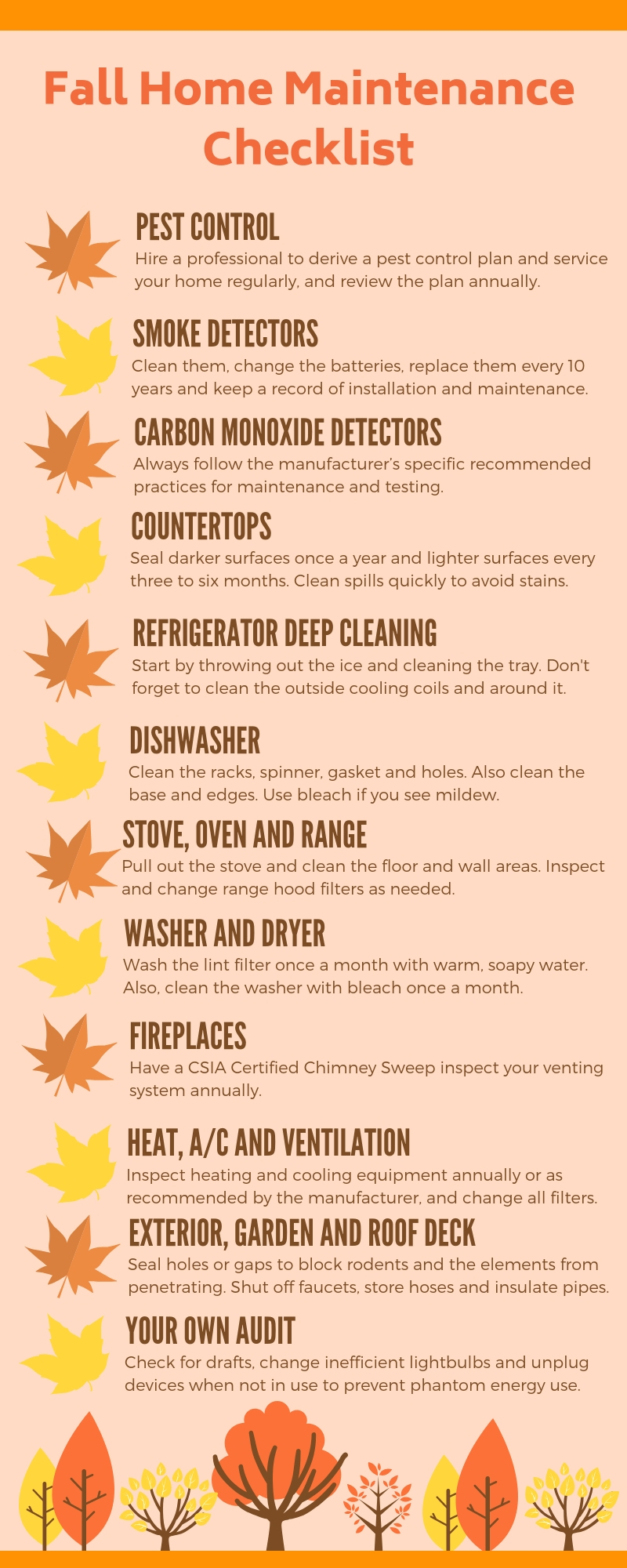 6. Dishwasher
Yes, even the dishwasher needs maintenance. Take out the racks and clean them, ensuring that no food is stuck. Clear any debris around the spinner, gasket and holes, and then clean them thoroughly.
Scrub clean the base and the edges, and bleach any areas that display mildew or mold. Your dishwasher may have a filter and should be cleaned every three to six months depending on usage, but refer to your specific model's owner's manual for guidance to ensure performance is not affected.
7. Stove, oven and range
Cooking often leads to food debris and spillage, and a deep clean is necessary. Begin by pulling out the stove and clean the floor and wall areas.
Ovens with a self-cleaning feature use a high temperature to burn off leftovers without the use of any chemical agents. Inspect and change range hood filters as needed.
8. Washing machine and clothes dryer
Always clear the lint filter between drying loads. The duct and cabinet should also be inspected, vacuumed and cleaned for lint build-up periodically.
Once a month, wash the lint filter with warm, soapy water and let it fully air dry then wipe the drum and exterior with all-purpose spray. Detergent build up can occur inside the washer tub over time.
GE Appliances recommends cleaning the washer tub once per month with one cup of bleach or white vinegar to keep the wash basket fresh and clean and free of mold or mildew odors. Use white vinegar and baking soda with an old tooth brush to clean around the edges so your machine sparkles.
9. Fireplaces
Prior to opening the flue and lighting a fire on a crisp evening, the Chimney Safety Institute of America recommends having your venting system inspected annually.
The CSIA inspector will make sure your fireplace or stove is in good working order and provide you with a maintenance plan recommendation for your specific chimney and venting system type.
10. Heating, ventilation and air conditioning
Inspect heating and cooling equipment annually or as recommended by the manufacturer. If you have a forced-air furnace, check your filters and replace them. Generally, you should change them about once every month or two, especially during periods of high usage or if you have pets.
Have a professional check and clean your equipment once a year. Vacuum radiators, baseboards and air registers. Change all filters in your home, including air purifiers, air conditioners, dehumidifiers, gas furnace, the A/C system, etc.
11. Exterior of homes, gardens and roof decks
Walk around and look for gaps and holes where pests, wildlife, rain and snow can easily penetrate, and seal them promptly.
Shut off exterior faucets and store hoses. Pipes that are exposed to the elements require their own winter suit and should be insulated.
12. Conduct your own energy audit
A professional energy audit is the best way to derive where your home is losing energy, however, you can conduct your own audit to spot improvements to save money.
Check for drafts along the baseboard of the flooring, junctures of walls, ceilings, plumbing fixtures, electric outlets, lighting, windows, doors and where two different building materials meet.
Energy for lighting accounts for approximately 10 percent of your electric bill, so replace insufficient bulbs with energy-saving ones. Always unplug devices when not in use to prevent phantom energy use.
Now that you have tackled these maintenance items and increased the energy efficiency of your home in time for fall, you can rest assured you will have a beautiful time taking in the magnificent foliage as the days become shorter.
If this list seems a bit overwhelming, just remind yourself and your clients to take it one day at a time, and before you (and they) know it, everything will be complete.
This article was pulled directly from Inman News with no curation or modification by Affinity Hills Realty. The views and opinions of authors expressed in this publication do not necessarily state or reflect those of Affinity Hills Realty, its affiliated companies, or their respective management or personnel.
Related Posts
We can market our home ourselves — I mean, how much can…

Bathrooms, move aside — 2019 is the year of the kitchen. (more…)

Immigrants to the U.S. who buy homes aren't deterred by the high…